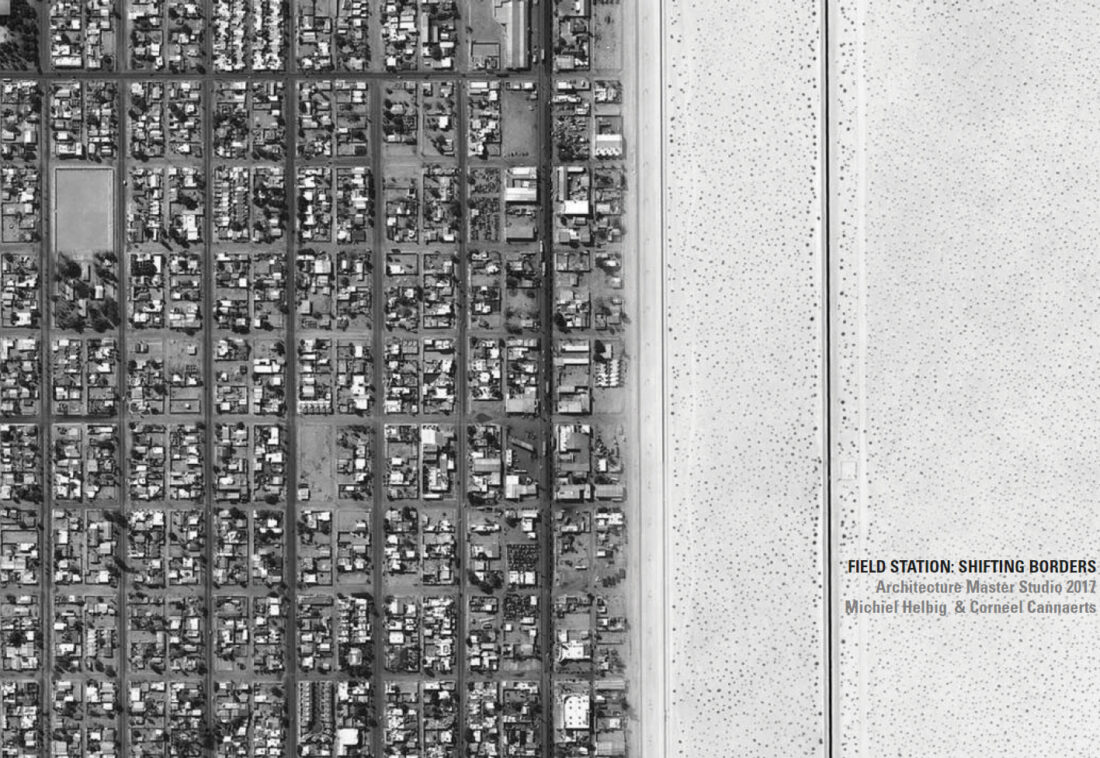 Shifting Borders
KU Leuven | Field Station Ghent
Architecture Master Design Studio 2017
Michiel Helbig, Corneel Cannaerts

Students: Yvonne van der Poel, Maarten Moens, Sivard Brémaud, Jeanne Vancoppenolle, Dauwke Fredrix, Dries Coopman, Juliet Plasschaert, Shirin Depreeuw, Joris Putteneers, Thomas Ghyoot, Tjørven Rappelet, Olaf Mitka, Arne Van de Velde, Janne Thaels, Joel Ekelof, Emanuela Passadore, Arnold Monthe, Martin Sirakov, Janusz Ziobrowski, Jehan Goethals, Sven De Smet, Anna Eckes, Fons Galle
The second iteration of Field Station studio focuses on urgent issue of Shifting Borders, the previous edition looking into the expanded field of architecture, and hacking as a possible alternative design approach. Geopolitical borders are under pressure and shifting between dissolution or reinforcement. Our environment is increasingly mediated through digital technologies, eroding borders between material and virtual, while simultaneously giving rise to new geographies and introducing new borders. Many developing economies are growing, lowering poverty and providing social mobility for an increasingly large part of the world's population. Simultaneously it is clear that our consumption and modes of production is unsustainable depleting resources, leading to ecological crisis and ethical considerations. Architecture as a discipline has a hard time operating in response to these shifting conditions. Technological progress, social shifts, ecological urgencies and global concerns are raising public debates about ethical boundaries.
The dichotomies that are at basis of architecture as a discipline are collapsing, the borders between seemingly opposite nations are shifting. There is no clear distinction anymore between nature and culture, between environment and building, between interior and exterior, between digital and material, between mediated and bodily experience. These issues have the potential of rethinking and our modes of operation and as architects we design embedded in this expanded field.
STATION AS AN ARCHITECTURAL TYPOLOGY
Military stations, observation posts and bunkers are only some examples of architectural structures that located on strategical border conditions within their surroundings, architecture has a rich and long history of stations as a typology: Form oil rigs, wind-mills, hydro stations, solar plants that harvest various forms of energy; Weather stations, telescopes, observatories, scientific field stations, space stations, that explore and map particular layers of our surroundings; Lighthouses, border checkpoints, customs, communication antenna that signal and demarcate different territories; To more modest refuges and cabins, that provide shelter.
All these building typologies, while different in scale and program, use spatial strategies- ranging from extracting, occupying, camouflage, sensing, observing, filtering, exploring, probing – and have as specific architectural articulation to negotiate with their environments. Stations also vary in scale, scope and how they relate to border conditions and how these change in time, from temporary or even mobile structures, dealing with time in seconds, over structures engaging with daily, monthly and yearly changes, to structures engaging geological time. The field station as an instance of an architectural typology is generally not a singular entity, it is situated within a field and relates to and communicates with larger networks. The studio builds on this lineage of architectural structures and how they relate to various fields and border conditions, their networks and architectural articulation.
ALTERNATIVE PRACTICE
Architecture can learn from contemporary phenomena, technologies and strategies, present in other disciplines, which might seem to be outside of the realm of architecture. We believe we need to alter our standard ways of understanding architecture and habitual modes of operation in order for architecture to be relevant in the expanded field. Adopting approaches from other fields of artistic and design practice, media arts, installation, performance, video games and interaction design, might enable us to disrupt disciplinary constraints and extend architectural practices into new domains. We are particularly interested in potential pathways being opened by new models of collaboration, open source, hacking, tinkering… etc. Students are actively encouraged to find their own set of tools media and modes of working, we expect a high quality and personal output.
Field Station Studio operates as a collective practice, breaking out of the confines of academic architectural education. The studio will travel and actively seek encounters with thinkers, makers, hackers and artists active in different fields (who are also interested in DIY, out of the box, open source, hacking). The studio will have sessions and meetings in Antwerp, Gent, Brussels & Berlin to gather information concerning investigated fields, to exchange alternative practices, to share experience and ideas.
FieldStation1718ShiftingBordersProjects