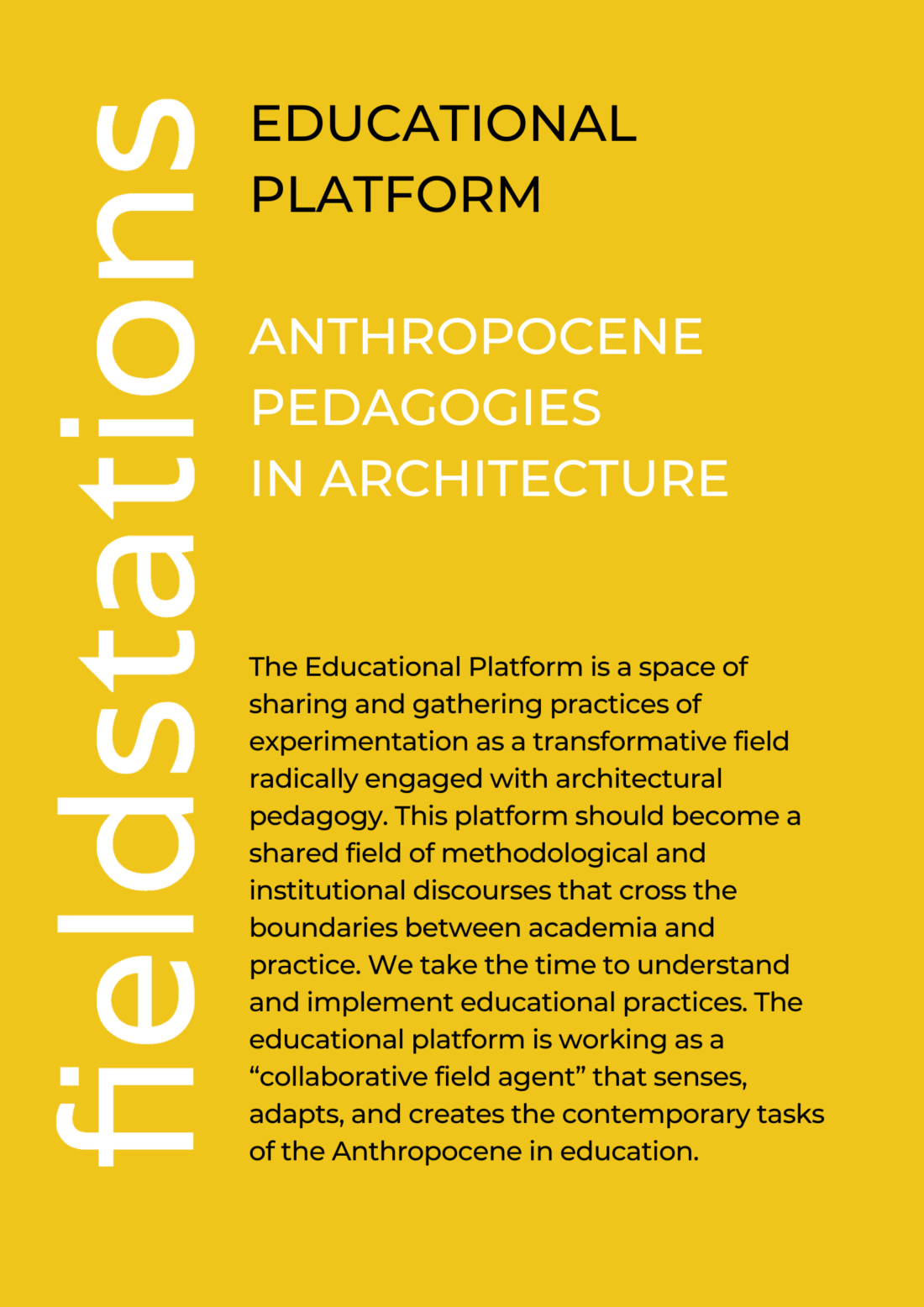 Anthropocene Pedagogies in Architecture
Fieldstations e.V.
Lidia Gasperoni, Andrea Rossi, Till Zihlmann, Jennifer Raum

The Anthropocene describes an environment which is in an alarming condition. The environmental crisis urges us to adapt, transform our architectural practice, and to develop a new perspective towards our environment. The debate around the Anthropocene – like other related critical concepts as Capitalocene and Chthulucene – zeroes in on the human impact on the earth. It urges us to rethink several dimensions of coexistence between humans and non-humans, to reveal new constitutive planetary relationships between products and processes, and to cross disciplinary boundaries. In recent years, this paradigm shift has become a field of reflexive intersection in which design and construction practises are renegotiated and experimental practices of co-emergence of the environment are developed.
Architecture as a material field has a radical and undeniable impact on the environment. In the context of the Anthropocene, architectural practice is therefore facing multiple challenges. The environment is no longer just the background or context in which architecture emerges, but architecture itself has become part of the forces that create our geological environment. This requires the discipline to radically rethink its techniques and materials as well as its aesthetics and the documentation of its impacts, objects, and qualities. To respond to these challenges, it is crucial to alter our current architectural practices. But it is equally important to reconsider the ways in which we educate young people and hence the future generation of architects.
The core question of Platform for Anthropocene Pedagogies in Architecture is: How can we expand the pedagogical duties of architecture repositioning human and non-human capacity of designing shared environments?
Platform is a space of sharing and gathering practices of experimentation as a transformative field radically engaged with architectural pedagogy. This platform should become a shared field of methodological and institutional discourses that cross the boundaries between academia and practice. We take the time to understand and implement educational practices. The educational platform is working as a "collaborative field agent" that senses, adapts, and creates the contemporary tasks of the Anthropocene in education.
Platform is an ongoing project that is meant to expand and cross the boundaries of design education, embedding experimental approaches. In order to join the group, you have to fulfil just one requirement: describe the topic, the methodology, and the effects of your teaching practice. If you are interested, please write us an email.
We structure our work in the following formats:
Spatial Education Series: embedded in the general framework of Fieldstations to discuss recent publications and projects dealing with spatial education
Teaching Practises Series: to present teaching practises in the framework of the Educational Platform
Exchange Workshops: organised by our contributors or external guests to discuss teaching issues in depth with the group conceiving a performative framework and to implement the reflection and documentation of topics, methodology, and effects
Platform Workshops: to discuss the ongoing development of the educational platform
In 2021 Lidia Gasperoni launched a call for teaching practices and organised the first workshop at the Department of Architectural Theory (TU Berlin) presenting some pedagogical approaches in architecture. In 2022 she launched another call for practice in collaboration with Andrea Rossi. Since then, we have devoted a great deal of energy to contacting people, talking to them about their current pedagogy at the intersection between architecture, landscape, and urbanism. We asked a wide range of educators – at different stages of their academic career – to describe topics, methods and effects generated by the pedagogies they have developed to respond to contemporary challenges of the Anthropocene. We have collected around 25 practices, bringing together around 50 people, engaged with spatial education. During this time, the idea emerged to set up a platform dedicated to creating a space for exchange and discussion. Between September 2022 and January 2023, Till Zihlmann and Jennifer Raum joined the organisation team.